Thursday, March 25, 2010

Check out my Facebook page
for more info
or
Posted by

Funky Monkey Creations
at 12:23 AM
No comments:

Sunday, March 21, 2010
I make children's wooden name signs and other room decor.
My products are colourful, individual & unique which can't be bought in just any regular shopping centre. They are a great present, baby shower present or Christmas present as they are personalised for your child.

My products are made with non toxic acrylic paints. You have the choice from any of the colour Listed below:
Hot Pink, Lolly Pink, Dusty Pink, Blue, Grass Green, Lime Green, Orange, Yellow, Dark Purple, Light Purple, Red, Black, White, Sea Breeze, Turouoise, Candy
To enhance my products further you can choose from a variety of embellishment's or perhaps even a glitter effect.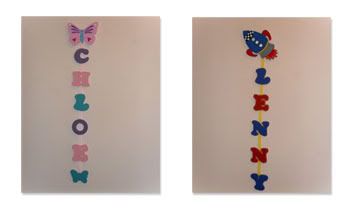 The Hanging Name Signs are easily hung on any doors or walls simply with blutak or 3M strips. There is small postage cost or if you live in the local area you are welcome to collect.
Hanging name signs are my passion but please visit my shop/store for other great products I produce.
Thank you for your support

Posted by

Funky Monkey Creations
at 11:33 PM
No comments:

Monday, March 1, 2010
FUNKY NEW WALL LETTERS
Check out my Facebook page
for more info
CLICK HERE
PRICING: $ 5.00 / Letter
Please email me kymmaclean4@hotmail.com
for pricing on postage.
You will need to also email me the spelling of the name and colouring you require.
Posted by

Funky Monkey Creations
at 3:12 AM
1 comment: